Pastor Mike Smith - Country Bible Church, Brenham Tx.
Education & Career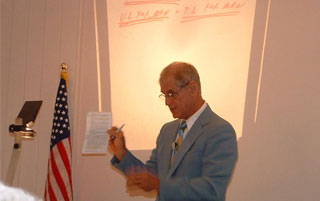 Mike graduated from Waltrip Senior High School in 1966 with his choice of over twenty university football scholarships. He chose Texas A & M University, was a member of the military corps of cadets, was a starter on the varsity football team, and maintained average grades his freshman year.
Later, he decided to follow his father, uncle, and grandfather in the plumbing business. After finishing a four-year plumbers' apprenticeship school in Houston a half year early, he quickly rose through the ranks to become the youngest superintendent of the largest mechanical construction company in the southwest. This was not appreciated by some of the older men placed under his authority, and the lessons in leading and dealing with sin natures provided not only the opportunity to apply Bible doctrine, but also many personal and practical illustrations for effective communication of Divine principles to others.
Mike started his very own successful Landmark Log Homes business in 1982 that helped him develop greater skills in teaching and leadership. Strong positive volition towards God's Word manifested itself in the Brenham area in 1990, and Mike's willingness to teach Bible classes demonstrated God's perfect timing and faithfulness to meet that desire for Truth.
Pastor-Teacher & Church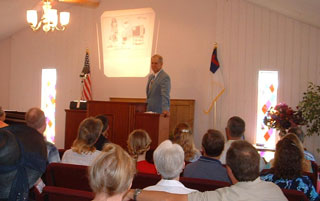 After 15 years of Intensive academic preparation, Mike was ordained at Berachah Church in 1991. Construction of Country Bible Church began immediately following Mike's ordination into the ministry, and he has continued to study and teach there ever since. He was named by Pastor R. B. Thieme Jr. to sit on the Berachah Church Ordination Council reviewing other new pastoral candidates in 1995 and 1997.
We celebrate the love and total thoughtfulness of God the Father who provided Mike with such great parents, authority-orientation, football, military, and construction disciplines, self-employment experience, and the superb academic preparation necessary that has made him the faithful and willing servant that he is today. We praise our God for faithfully providing His Word and its accurate dissemination